by Keiko
My friend who lives near Amanohashidate in Japan has shared
a link
on a special tour there. How special is it? This rate is available only to those with passports issued by countries other than Japan!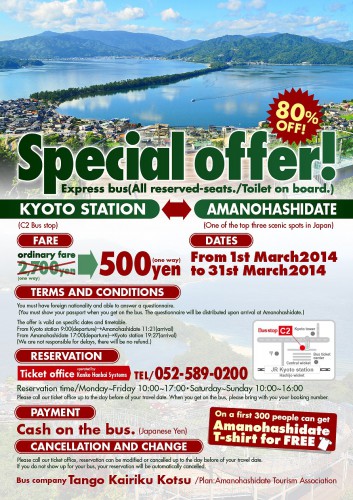 Many of the Seattle Japanese garden tour guides are familiar with the term
Amanohashidate
because for many years, our
suhama
was mistakenly introduced as Amanohashidate.
Ama
means "heaven or sky";
no
is "of"; and finally,
hashidate
is "a bridge to connect": Thus,
The Bridge to Heaven
. According to a local document published several hundreds years ago, Izanagi (
伊射奈芸命
), who created Japan, had built this bridge/ladder to commute to
ten.
However, while he is taking a nap, the ladder has fallen flat. That is how this beautiful landscape was created.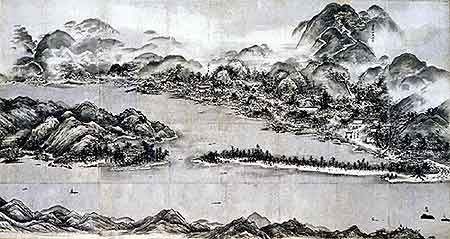 Amanohashidate by Sesshu
Below is a copy from japan-guide.com on its significance as a tour spot.
Amanohashidate (天橋立) is a pine covered sandbar that spans the mouth of Miyazu Bay in the scenic, coastal region of northern Kyoto Prefecture. Viewed from the mountains at either end of the bay, the Amanohashidate Sandbar (which roughly translates to "bridge in heaven") looks like a pathway between heaven and earth. The scene has been admired for centuries and is ranked among Japan's three most scenic views.
Several other attractions can be explored on foot or by rental bicycle at either end of the sandbar. They include a couple of
temples
, a
shrine
, a small amusement park and observation decks from which to enjoy the view. Visitors can further take sightseeing cruises around the bay or enjoy the sand beaches along the sandbar.
Are you ready to take this trip? (Caution: Even though the cost for this trip is 500 yen which is about $5.00, this trip starts at Kyoto Station in Japan.) :)
Miyazu, Amanohashidate Accomodation Guide