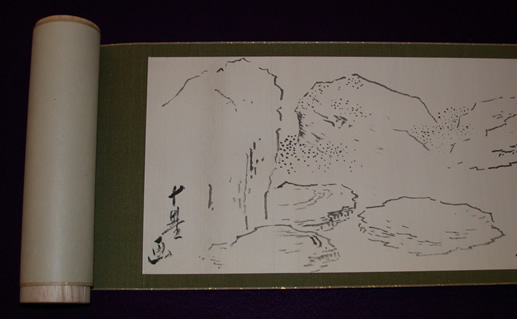 Juki Iida scroll (image from Miller library)
The scroll is sitting in Miller Library, in a dark room, no doubt. Here is a link to
the library page on the scroll
. Please comment below if you'd be interested in visiting it sometimes maybe the end of November, when the Garden closes. The staff of the Library preliminarily agreed to give a tour of the scroll, and we could invite someone to speak about it, too.
...He brushed this scroll at leisure during his stay in Seattle and then gave it to Richard Iwao Yamasaki, who worked closely with him. The scroll reveals the essentials of the Japanese garden: trees, water and rocks, which, when brought together in quiet and harmony, grow, age, and become natural....

(stole this info from the Miller Library page; BTW - they spell his name Juuki over there; have you seen it spelled that way before?).
猿も木から落ちる。 (Saru mo ki kara ochiru) Literally: Even monkeys fall from trees.
Meaning: Everyone makes mistakes. / Nobody's perfect.